About
Welcome to the BriefGen service!
The aim of it is to help make a complete description of any web development task that you have in mind. The inspiration to create such a service came from our dearest clients who sometimes need to answer to a quite big range of questions before start a new project. The thing is there are always a few demands in the beginning, but the development process shows that a number of details were missed.
And not just some, but rather important ones - questions that determine the speed of the project. It's not for nothing they say that clarifying questions every time lead to the right decision.
But surely when you facing something at first time you may simply don't know what to ask. And of course to assess the effectiveness of questions, you need to be consciously aware of the hierarchy to which they belong.
So how do we know if those questions are the most effective ones for your task? - Because we've tested them!
Tons of different web projects with various tasks that we worked with taught us what need to be asked. And at first it was just a great tool for our sales managers and only for our team. So we created it for our sales department. And Sales can lead a phrase "I need a site" to a complete fully organized task for developer and designer pretty quickly. So it's really damn convenient when you need put in order all your thoughts and tasks into one place, one file. Then we noticed how much easier it makes starting communication with developers, designers and other technicians that are going to work face to face with a project. So we decided that want to share it with other.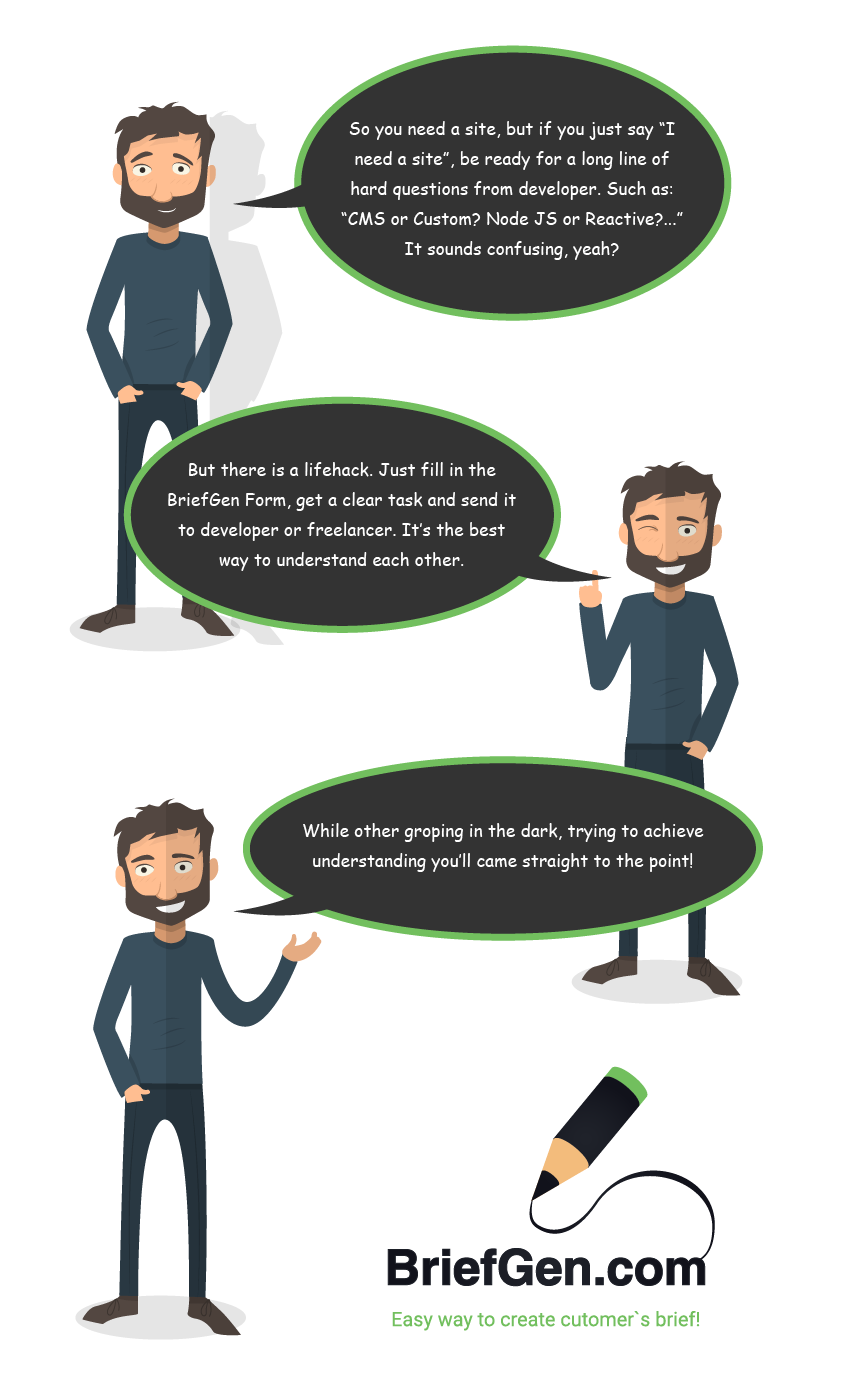 While creating it we thought through all tiny details that may appear, basing on our huge experience working in this field and facing different shades of web development process. Of course you can see that not every question need to be answered, as there are not every marked as obliged. But keep in mind that sometimes its better not to be lazy and take your time to consider every detail. For example even though it' not marked as required, it would be better to know if there other Dev Team work simultaneously to avoid plenty of mistakes. Or if you need to compose a task for digital marketing service it's obvious that lines for competitors and target audience are obliged to be fill in. Well, hope you grasp the concept of what needs to be done in general. But if there any questions or if you want to start your web project fast and easy, you are welcome to ask for help our team.
Have fun and take advantage of BriefGen created by our Web Design Sun team. It includes a wide range of web services such as:
Full Cycle Solution
Web Development
Graphic Design
Mobile Development
System Administration
Digital Marketing
IT Consulting
Hosting
Technical Support
Set the right task and half the battle is won. Whatever you have to sort out the details of your own project, to show it to a web dev team or perform it to a freelancer, BriefGen will stand in good stead. Step by step you can organize the whole process and will face with the questions that normally you forgot to count in.
BriefGen - for better communication at the beginning of any web project.